Why Sell with Me?
There's no doubt about it. Your real estate agent has a huge impact on whether or not your home sells quickly, how much you get for your property, and your experience throughout the process.
So you'd be smart to ask, "Why should I sell with you?"
30 Reasons Why You Should List and Sell Your House with Bruce
It's All About You!
1.  EXPERIENCE! A Licensed Real Estate Salesperson since 1988!
2.  A Thoroughly Researched Competitive Market Analysis (CMA) to assist in determining the optimum listing price for your home
3.  24/7 Marketing of Your Property until it is sold
4.  An Integrated, Global, Multi-Channel Marketing Campaign customized to sell your home quickly and for top dollar. Your home will be prominently marketed via the Internet, my personal websites, the Sutton Group website, www.Realtor.ca, local news and/or top-tier social media platforms
5.  Video Tours Marketed Globally via TREB, my websites, Realtor.ca, Google and top-tier social media sites on an ongoing basis Twitter, Facebook, LinkedIn, etc.)
6.  Your property will receive the benefit of exposure from a targeted Google Adwords campaign
7.  FREE Home Staging Decorating Consultation to showcase your property's best features
8.  A Minimum of 2 Open Houses Per Month to showcase your house to qualified potential buyers until it is sold
9.  Custom, Professional, High Quality, Full-Colour Feature Sheets, including photos and descriptions, to ensure the best possible presentation and promotion of your house
10.  Your MLS listing, complete with photos and a thorough description will be accessible to more than 70,000 Agents working in the GTA.
11.  Prompt Response to All Potential Buyer enquiries concerning your house, by way of the Internet, Newspaper/ Magazine advertisements, sign calls, Open Houses and all other means.
12.  A Monthly Real Estate Newsletter keeping you up to date on current market activity
13.  I will introduce your property to all Agents with Buyers looking for houses like yours through the Buyer Registry.
14.  Ongoing Progress Reports until your house is sold
15.  Personalized Attention to All Matters Related to The Sale of Your House. I will personally present, thoroughly review, negotiate and manage the presentation of all offers
16.  You will receive direct feedback following my contact with each and every Real Estate Sales Representative that showed your property for their clients' overall impression of the appearance and pricing of your house.
17.  Prompt Follow Up In All Matters Concerning the Sale Of Your Home. Your lawyer, mortgage broker and others, as directed by you, will be made aware of all pertinent matters and receive necessary documentation in a timely manner from us
18.  Personal Attention To All Matters Related To The Sale Of Your Home
19.   A Full Explanation of Agency Law and other laws that can affect a residential real estate transaction
20.  Market Updates with area updates of homes for sale (your competition) and recently sold, for comparison purposes
21.  I will review every document and provide you with options in clear language so that it is fully understandable by you.
22.  Benefit From the Experience of a Consistent Top Performer – an Annual Sutton Group "Platinum Award" Winner (the highest award offered in Canada) with over $100 million in sales since 2004!
23.  References and testimonials provided on request
24.  An Extensive Database of Pre-Qualified Buyers: You will have the possibility of one of my pre-qualified buyers purchasing your home
25.  A Team Of Real Estate Industry Experts, including mortgage specialists, financing specialists, lawyers, home inspectors and other real estate related professionals
26.  It's All About You! My promise to you is to always provide you with whatever is necessary to help you make the right decision!
27.  Life Long Professional Relationship: Once your house is sold, I will stay in touch with you over the months and years because I truly care about my clients, and they know I'm available to help at any time
28.  Direct 24/7 Contact with Me by calling/texting 416-WITCHEL (416-948-2435) or by email at bruce@brucewitchel.com. I respond personally to all of my clients. Call my name…and I'll be there!
29.  Winner of the 2020 Readers Choice Award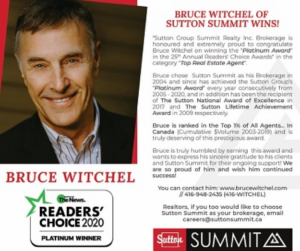 30.  An outstanding support team!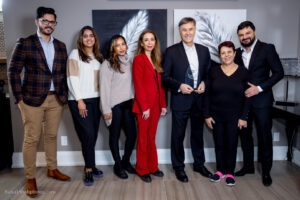 The information contained herein is accurate at time of printing and is copyright Bruce Witchel 2019.
For further information on real estate matters, please contact Bruce Witchel at 416-WITCHEL 416-948-2435 or by email at Bruce @ BruceWitchel.com.