Do You Have a Personal Real Estate Agent?
If you're planning on buying a home, you may have already done some shopping around on your own. Perhaps you've checked out a few open houses or called the number on a For Sale sign to schedule a private viewing of that property.
Yes, you can do all of that on your own, if you have the time and expertise. However, statistics prove that you'll be more successful in finding your dream home at the right price with your own personal real estate agent.
Your Real Estate Agent Works for You
A real estate agent, especially one who knows the local market well (like I do), can help you find and buy your ideal home, quickly, and make the entire process go smoothly for you. During a viewing, your real estate agent will give you the inside scoop on that property, so you know the full story. Your real estate agent will also point out desirable features, and potential "issues", that you might otherwise miss.
When it comes time to make an offer, your real estate agent will present and negotiate it on your behalf. If you don't have your own real estate agent, you would have to deal directly with the seller's agent, who is legally obliged to work in the seller's best interests – not yours.
Bottom line: Your own personal real estate agent is there for you, every step of the way. At least, that's how I work with my clients.
30 Reasons You Should Purchase Your Home with Bruce 
It's All About You!
1. EXPERIENCE! Benefit from the experience of A Consistent Top Performer and annual Sutton Group "Platinum Award" Winner with over $300,000,000 million in sales since 2014!
2. NO fees to you as a "Buyer". You receive all of my services at no charge. The "Seller" is responsible for the commission payable to my Brokerage.
3. No Cost Home Inspection: A home inspection is the most important step, following the purchase of a home. I feel so strongly about this that I will reimburse you the entire cost of the home inspection upon the successful closing of a home that you purchase with me! I am very proud to offer you this unique benefit.
4. Prompt Response: You can be assured that I will promptly respond to your questions by phone, email or text.
5. Exclusive, Advance Email Notification:  You will be put on my Exclusive, Advance Notification Email List, in which you will receive ALL the properties currently available within your specific search parameters and price range. You will be sent one email each day with advance listings before they are even placed on the Realtor.ca website.
6. Full Neighbourhood Synopsis: You will receive a complete Neighbourhood Synopsis with comparable sales to the property you wish to buy. Data such as median and average sales price and average days on market, among other criteria, will have a huge bearing on the price you ultimately decide to offer.
7. A Full Explanation Of All Documentation: You will receive a full explanation of the "Buyer Agency Agreement", the "Working with a Realtor" document and other forms that can affect a residential real estate transaction.  I will also  thoroughly explain all of the legal terms and conditions relevant to any document to be signed in the purchase process to ensure you are fully informed and comfortable when signing.
8. True Market Price Guidance: I will provide you with True Market Price Guidance when negotiating your home transaction so that you will be comfortable and confident with your offer.
9. Listen to Your Wants and Needs: I will listen to your wants and needs in an understanding manner by confirming what was heard and what was intended. I promise to always follow your direction.
10. Leadership: You will receive the utmost in leadership from me. Because it's one of the largest transactions you will ever be involved in, I will never pressure you. I will provide you with all the materials, knowledge and timely advice you require, to assist you in making the right decisions. I am flexible and am able to adapt to the ever changing real estate market as it applies to your home purchase.
11. Attention to Detail: As a top Realtor, I take thorough care of the details, making sure that all of the small and large issues get the proper attention and that nothing falls through the cracks.
12. I have received the Certified Negotiation Expert (CNE) Designation, having successfully completed the required courses and have effectively implemented these techniques into my business, to the betterment of my clients.
13. Personalized Service, Promptness and Reliability: You will receive personalized service, promptness and reliability throughout our working relationship; providing one-on-one communication in all aspects of purchasing your home.
14. Meet Your Neighbours: Good neighbours are important to the enjoyment of your new property. If you so desire, I will arrange to meet your new next-door neighbours.
15. Work With You to Prepare an "Agreement of Purchase and Sale."  I will work together with you to properly prepare an "Agreement of Purchase and Sale" on any property that you would like to purchase.
16. Personally Present, Review and Negotiate All Offers:  I will personally present, thoroughly review, negotiate and manage the presentation of all of your offers.
17. A Team of Real Estate Industry Experts: I will provide you with a list of several top mortgage brokers, real estate lawyers, home inspectors and qualified tradespeople for you to consult.
18. Timely Execution of Documentation: I will forward all pertinent matters and necessary documentation to your mortgage broker, lawyer and others, as necessary.
19. References and Testimonials: You will be provided, upon request, with the names and phone numbers of my many references and testimonials.
20. Priority Access to My Listed Properties: You will have priority access to viewing/purchasing one of my many listed properties.
21. Booking and Confirming of Appointments: I will book and confirm all viewing appointments, at your convenience.
22. Lifelong Relationships: Once you have moved in, I will stay in touch with you over the months and years because I truly care about my clients.
23. Complimentary Copy of the local Community Guide: I will provide a complimentary copy of the local Community Guide providing you with data on local areas, schools, shopping, transit and demographics.
24. Direct 24/7 Access to Me:  You can contact me directly at any time by calling or texting 416-WITCHEL (416-948-2435) or emailing bruce@brucewitchel.com. I respond personally to all of my clients. Call my name….and I'll be there!      
25. My Monthly Real Estate Newsletter:  You will receive my monthly Real Estate Newsletter.
26. It's All About You! My promise to you is to always provide you with whatever is necessary to help you make the right decision!
27. EXPERIENCE! Top Producer and Licensed Real Estate Salesperson since 1988!
28. The Sutton Group Real Estate Brand and Reputation: You will receive the full backing of the Sutton Group Real Estate brand and reputation, Canadian owned and proudly serving Canadians since 1983; with over 9,000 Realtors across 200 offices!
29.  Winner of the 2020 Readers Choice Award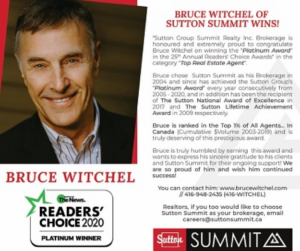 30.  An outstanding support team.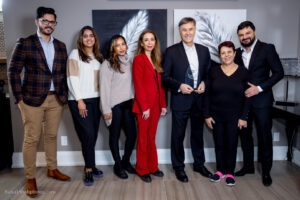 The information contained herein is accurate at time of printing and is copyright Bruce Witchel 2019.
For further information on real estate matters, please contact Bruce Witchel at 416-WITCHEL 416-948-2435 or by email at Bruce @ BruceWitchel.com.